Indoor vegetable gardens are all the rage, so home appliance specialist Bosch is launching its own model. Called SmartGrow, it adopts an original design, all in roundness, which distinguishes it from its competitors.
Our opinion on the Bosch SmartGrow indoor vegetable garden
A specialist in household appliances, particularly cooking appliances (ovens, induction hobs, etc.), Bosch completes its catalog with an indoor vegetable garden. A good idea for cooking enthusiasts who want to awaken their taste buds on a daily basis. The SmartGrow is an intelligent indoor garden – insofar as it automatically manages the supply of water and light – but not connected, unlike some models on the market. The SmartGrow is available in two formats, to grow three edible plants (MSGP3, €150) or six (MSGP6, €260). This vegetable garden stands out from its competitors with its rounded shape, which makes it look like an egg. The LEDs which provide the luminosity necessary for the growth of aromatic herbs are placed on the lid, which is raised as it grows. In the jungle of indoor vegetable gardens, Bosch cleverly manages to distinguish itself by selling clever accessories, such as a germination tray for 12 plants or a tray dedicated to the growth of young shoots. It is well seen.
Why we love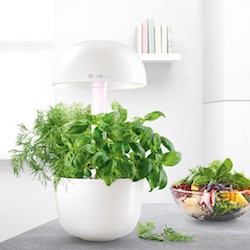 For its original, rounded design


For its ease of use (automatic lighting and watering)


For its smart, well-thought-out accessories
Intelligent watering and lighting
The Bosch SmartGrow vegetable garden has a single reservoir above which the plants grow hydroponically, i.e. above ground. A pump system supplies the roots with water several times a day, which prevents over-watering or lack of water. When the tank is empty, the LEDs flash blue to warn the user.
As for the light, it is provided by a system of LEDs (three per plant). The light changes color during the growth phase of the plants (more or less bluish or pinkish) to optimize their growth. These lights simulate day and night cycles, automatically alternating 16 hours on and 8 hours off. When the plants grow, the cover housing the LEDs can be raised so that the shoots have sufficient space, while still benefiting from light sources. So that the indoor vegetable garden can be installed anywhere indoors, even in a poorly lit corner.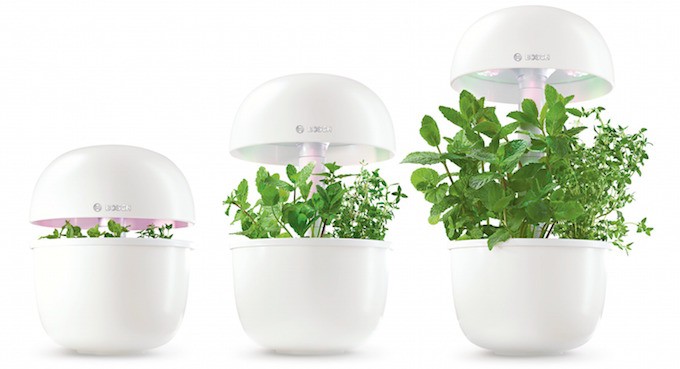 40 varieties of edible plants and a kit to grow your own seeds
The edible plants are contained in recyclable capsules containing the seeds and rock wool. As for the nutrients, they are supplied with the capsules, in the form of powder to be dissolved in the water of the tank. The seeds are guaranteed pesticide-free and GMO-free. The catalog includes around forty varieties of aromatic plants, edible flowers and salads, including classics such as basil, thyme, marjoram or oregano, but also more exotic plants such as viola or bok choy cabbage.
For the capsules, Bosch is supplied by the Finnish Plantui, which also markets indoor vegetable gardens which, moreover, resemble the Smart Grow like two drops of water.
Rather clever, Bosch classifies plants by speed of growth and also recommends growing together plants that have an equivalent growth rate:
– category 1: 3 to 5 weeks (for example chervil, watercress, pak choï cabbage, etc.)
– category 2: 5 to 8 weeks (basil, coriander, sage, etc.)
– category 3: from 8 to 12 weeks (mint, thyme, viola…).
Once the plants have grown, Bosch promises harvests for three to four weeks before needing to change the capsules.
Good idea: the manufacturer provides an "experimental kit" consisting of compatible capsules filled with rock wool in which the user can grow his own seeds.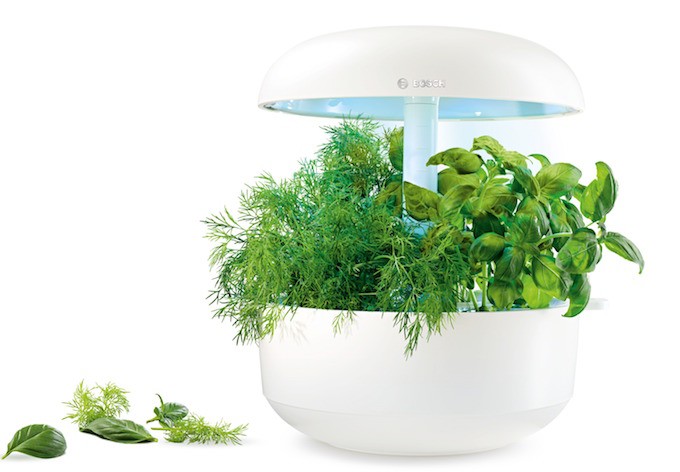 Really smart accessories
If there are many indoor vegetable gardens on the market, the clever accessories offered by Bosch allow it to stand out.
First, a 12-slot germination tray, compatible with the 6-plant model (MSGZBT12, €30). It allows you to take advantage of the water and light provided by the Smart Grow to quickly germinate aromatic plants or salads that you would like to replant outdoors, for example.
As for the VarioTray tray (MSGZSCT1, €40), it adapts to the indoor garden to plant micro-shoots – it is also possible to grow two planes simultaneously. Taking advantage of the contributions of Smart Grow, according to Bosch's promises, these young shoots are ready to be harvested and consumed in just 7 days.
Finally, optional light modules are available, whose light spectrum is specifically designed to accelerate plant growth or to promote opulent flowering, as desired (each module costs 40 euros).

Share on