Netatmo's outdoor camera is able to differentiate an animal from a human being, has powerful lighting, does not require a subscription and is controlled by smartphone. And recently, a new version is equipped with a powerful siren to scare off intruders.
Our opinion on the Netatmo outdoor camera
The young French brand, a former start-up since acquired by the Legrand Group, has made smart and connected homes  its specialty. The products it designs are both simple and sophisticated, such as its Welcome camera which identifies the people in your home, its air analyzer , its fire detector,  etc.
Its outdoor camera is not new, but by adding the siren option, Netatmo gives it an additional "weapon" to scare away burglars. 
This option generates an additional cost of a few tens of euros and the model without siren, therefore less expensive, is available on amazon , Boulanger  and Darty . Both models have the same features, apart from the audible alarm.
Why we love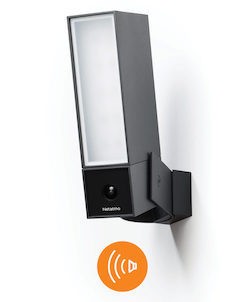 Good image resolution


No subscription fees


Intelligent recognition


Video storage on card or personal server


Makes noise or lights up on demand Introductory price: From 299 to 349 euros See the current price
A camera designed for the outdoors
You will need to get out the drill to install the camera and then connect it by wire to the nearest power supply. An Installation Kit (1 wall bracket, 1 mounting piece, junction box screws, 2 wall screws and 1 Allen key) is provided, as well as an assembly guide. Designed to be exposed to bad weather, it resists temperatures ranging from – 20° to + 50° C, which makes it very tolerant to our climates. Its coating is treated with the HZO process guaranteeing protection against humidity and driving rain.
The images are of quality thanks to the Full HD 1080p camera. The 100-degree wide-angle lens and its 20-meter detection field allow you to cover what is necessary (pay attention to the rules governing the installation and what you are allowed to film – 
The camera is equipped with a infrared night vision, because a burglar is active day and night. The lighting is very powerful and is automatically triggered. Ideal for scaring away the thief or simply lighting up when you come in.
Finally, the model with siren allows you to reach a sound volume of 105 dB, between the jackhammer and the rock concert. 
But now let's see what allows Netatmo to qualify its camera as intelligent…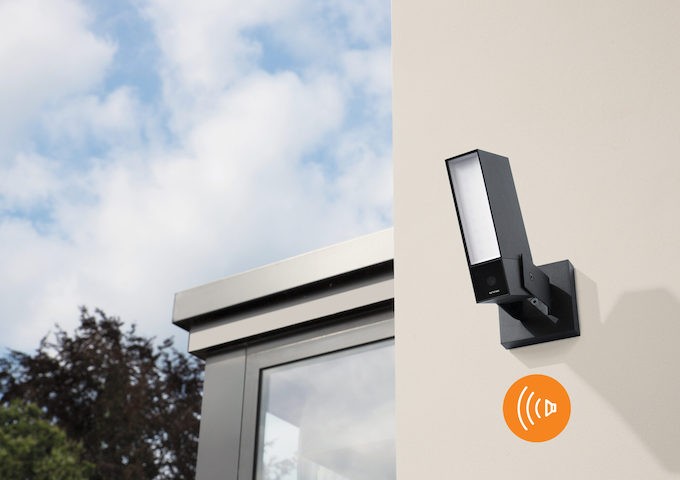 Intelligence and connectivity
The interest of the Netatmo camera lies both in its connectivity, which will allow it to be controlled remotely and viewed in real time, and in its ability to detect movements but also to tell the difference between an animal, a car or a human.
For the Netatmo camera to be fully usable, you need a high-speed internet connection because it works via wifi, and a smartphone to control via the application and receive alerts.
The application will therefore give installation, technical or legal advice, but above all allow you to configure the camera.
We can thus delimit areas that warn us of a nearby presence, such as a garden shed, a garage door, an alley…
It is possible to trigger or not the recording of a video, which is done here on an 8gb micro sd card, on dropbox or personal ftp server, at each alert. A system that avoids the need for a video storage subscription.
You can also remotely watch in real time at any time, trigger the lighting and, with the model equipped with a siren, start the audible alarm. Indeed, it must be activated following an alert and not automatically, which will save you some problems with the neighborhood. It should be noted that it is not possible to speak via the camera.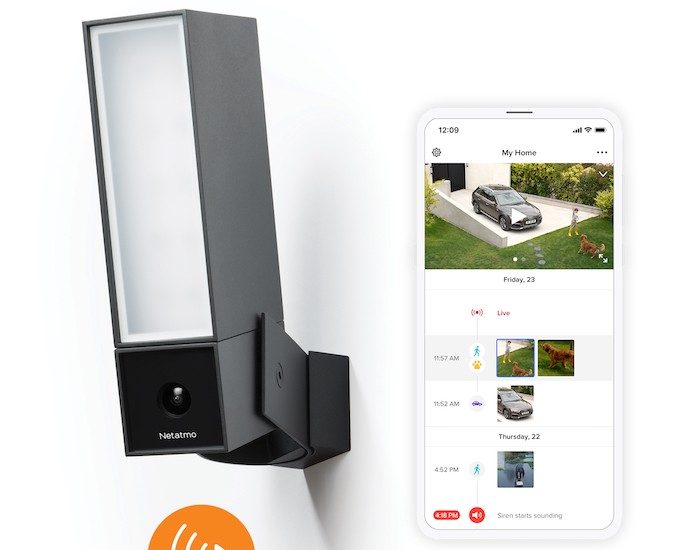 Another significant advantage of the Netatmo camera is its ability to discern what triggers the alerts: car, animal or human. Convenient when you have an animal because you can then deactivate the alerts.
The camera is equipped with infrared vision, for a first night viewing without the need to turn on the projector (always the neighbors.
Finally, for fans of voice assistance , the Netatmo camera is compatible with Alexa, Google, Siri and works with Enki. Share on