Sister Bliss (Ayalah Deborah Bentovim) discusses her upbringing, career and the men who have influenced her.
Occupation: Musician
Age: 50
Relationship status: Single
Best known for: Being a British DJ and songwriter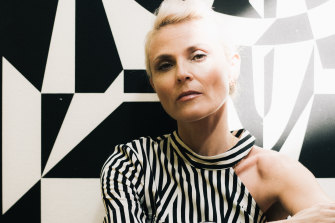 My paternal grandfather, Harry Bentovim, was very musical. He was born in Jerusalem [before moving to London in 1947]. He worked as a doctor and died when I was 11. He used to come to my school concerts. I was lucky to have that kind of support. He was always very generous with his time and loved music. He had a head full of hair when he died at 89.
My dad, Arnon Bentovim, was in jazz bands in London in the 1960s. He plays the saxophone and piano; there were always instruments lying around the house for me to explore as a result of his love of music. It's how I got into the piano from a young age.
Dad used to perform with eminent poets during this time – weirdly enough, Spike Milligan was one of them – who read poetry over the music his band played. Dad never really got to live out his dream as a musician: when the Beatles came along it kind of changed everything for those doing jazz. He became a doctor.
Loading
Mum worked as a political cartoonist and started teaching art therapy after I was born. During the school holidays I would go to retirement homes where she worked with those who were deaf and crippled. She would get them to draw and use colour as therapy. I saw how art could really change their lives.
My childhood celebrity crush was on Adam Ant, from Adam and the Ants. He was an '80s rebel musical god who came along and tore up the rule book. I was obsessed. I loved how he dressed as a pirate: he had a great sense of costume and was fancy-free. The last gig I went to prior to London's lockdown was his, at Brixton Academy in December 2019. I had never seen him live. He still has so much energy and is very handsome.
My first kiss was rather disgusting. It happened on holiday aged 12. Some guy pinned me up on a wall while I was playing table tennis at a hotel. To find someone's tongue in my mouth was not my idea of romance. I didn't kiss anyone for two years after that.