LISTS

From Soldier to Jazz Giant: The Life of Billy Bang
By
Andy Thomas
·
July 22, 2021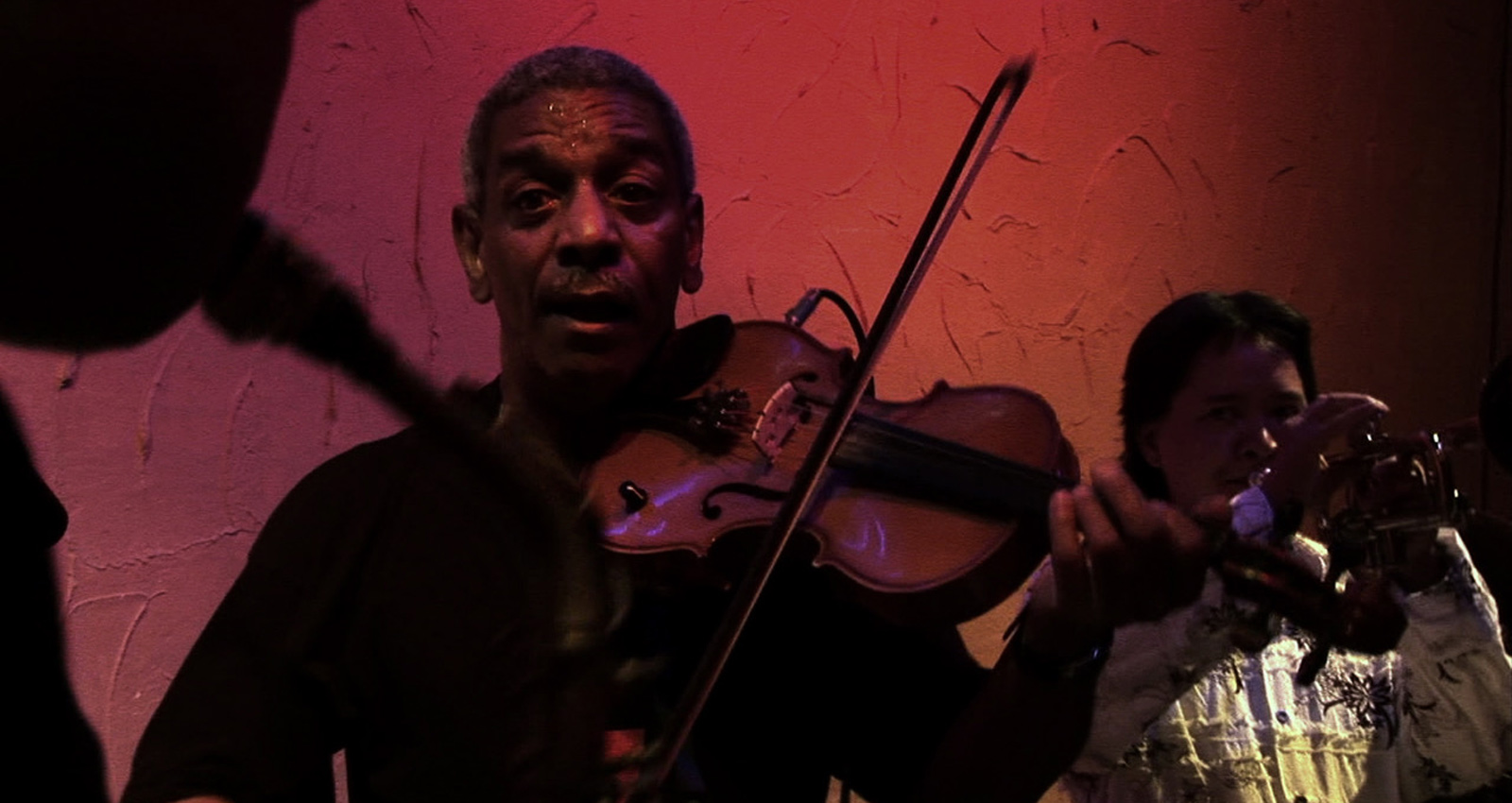 After spending a year in Vietnam, where he had served as a "tunnel rat" armed only with a flashlight and pistol, Sgt. E5 William Walker, known to family and friends as Billy Bang, returned to New York in March 1968. Lost, haunted by what he'd seen in the war, and strung out on drugs and alcohol, he became an arms expert for revolutionary political groups. One day, while on a mission to buy guns for a group from a pawn shop, he came across a violin in the corner of the store.
The instrument became a kind of therapy for him. He began immersing himself in the New York loft scene, playing with such luminaries as Sam Rivers, David Murray, and the artist who would become his most regular collaborator, William Parker, before the bassist became a member of Sun Ra's Arkestra.
Despite his continuous musical explorations, there was always one journey that Billy Bang had resisted—the one into his past, to face the recurring nightmares of Vietnam. The first step in his musical rehabilitation were the two LPs he released in the mid-'00s, Vietnam The Aftermath and Vietnam Reflections, both of which entwined Afro American jazz traditions with pentatonic Vietnamese scales.
In 2010, a year before he sadly passed away, Bang travelled to Vietnam to collaborate with local musicians as he sought some form of closure. The trip was documented in the film Lucky Man (2021), the soundtrack of which has just been released by BBE Records in collaboration with IF Music. It features Bang's performances across the country, along with his reflections on life, music, and the war he was forced to revisit.
Nearly 20 years ago, I interviewed Billy Bang for the magazine Straight No Chaser, and he recalled that fateful day in the pawnshop. "When I was in combat in Vietnam my M.O.S [military occupation] was infantry. So it didn't take long for people to realize I knew something about guns," he said. "Somehow I got caught up at the back of this shop looking for guns [for the political groups I belonged to]. And to this day, I swear I heard this violin calling me."
William Vincent Walker first picked up the violin after his family moved from Alabama to East Harlem in the late '50s, before moving to The Bronx at age 13. "In Harlem there was a brand new junior high school that had a strong music department, and they were bringing in kids like me from the elementary school, trying to fix them up for life," he explained. "Fortunately, I was one of those chosen for the orchestra, and because of my size, I was given the violin."
Bang said that it was Latin music, rather than jazz, that first opened his ears to the rhythmic and harmonic possibilities of the violin. "I'd never heard the violin utilized in any other way than European classical music. But there was a record out in around 1965 by Ray Barretto which used a violin totally differently, and that got me into the charanga bands," he explained. "And of course being in El Barrio [in East Harlem], I was exposed to all of this, and I heard the violin being played with more fire and with a more rhythmic feeling. And that was something I could really relate to."
After being torn away from playing music by the horrors of war, Bang returned to New York and began studying his instrument all over again. "When I came back, I had to re-learn this thing, because I hadn't played it for so long," he said. "And because of that, my sound became a strange sound. There is a rough edge to what I do, because of the way I had to train myself. I also think the Eastern way of playing is a very primitive style, and those pentatonic scales go back very early in mankind. Because I was stubborn and playing on my own and training myself, I naturally fell into that."
He began to study the playing of saxophonists at the freer end of the jazz spectrum. "I listened a lot to people like Eric Dolphy, and I started to try and execute my bowing technique the way that sax players breathe," he recalled. "So when they took a breath, I would stop the bow. I also tried to phrase the way horn players did, so my sound was more staccato."
It was in the sound of free jazz and the avant-garde that Bang found his calling. "To me, this was not about being abstract; it was about the connection to politics and the Black Nationalist movement," he said. "It was very revolutionary, going against the grain of traditional music as people were trying to go against the grain of society. That went hand-in-glove with what I was feeling at that time."
Bang would soon hear a violinist who would open up the possibilities of his own instrument. "I got those [Association for the Advancement of Creative Musicians] LPs on Delmark, and that helped me a lot—because that is when I heard Leroy Jenkins," he recalled. "Then I heard all his stuff with The Revolutionary Ensemble. That was a major part of my development."
Under the mentorship of Jenkins,  Bang learned both about discipline and structure, as well as the power of being part of a community like Muhal Richard Abrams' Chicago collective, the AACM. By that point, Bang had joined a collective of like-minded musicians in a creative space on the Lower East Side called The Basement, which he referred to as "my University." It was there that he formed a long friendship with reed player Henry Warner.
Other long-standing musical alliances were formed when Bang became a regular in the New York loft scene of the mid-'70s. "That was where I met and worked with so many amazing musicians who helped me," Bang explained. "There were so many places like Sam Rivers' Studio Rivbea and Rashied Ali's Place, Ali Alley. A lot of people came out of that movement."
Through the Loft scene Bang was introduced to Sun Ra, and he ended up touring with the Arkestra for 10 years. "James Jacson [Arkestra member] helped me a lot, because I had begun to become tired of my sound," Bang explained.  "He sat me down and told me, 'Look man, you have your own sound. It's an individual sound and you have it naturally.' So that gave me belief because before I couldn't hear my own sound."
Over the next three decades, through both his own ensembles and those of other similarly empirical collaborators, Billy Bang developed that sound into one of the most original in jazz.
Here, we pick out some of the highlights.
As the liner notes state in this collection of unreleased recordings by bassist William Parker and his New York loft scene associates: "The only participant on these discs who appeared on the famous Studio Rivbea recordings Wildflowers: The New York Loft Jazz Sessions is saxophonist David S. Ware. So this is a milieu which left little trace, and has been largely unheard until now." The final disc of this revealing box set was a recording of Parker's eight-piece Centering Dance Music Ensemble, featuring the haunting violin of Billy Bang and celestial voice of Ellen Christi, performing a chamber jazz liturgy that befitted the surrounds of Washington Square Church on an October night in 1976.
Billy Bang, Bilal Abdur Rahman, Henry Warner, William Parker, Rashid Bakr, Khuwana Fuller
Black Man's Blues / New York Collage

The first recording under his own name was Billy Bang's Surviving Ensemble LP, New York Collage. This cult Loft-era classic was recorded for the label Anima Productions, who would go on to release LPs by Billy Bang's Sextet, as well as the exploratory free jazz LP Untitled Gift with Don Cherry. This rarity features Bang, William Parker, along with saxophonists Bilal Abdur Rahman and Henry Warner, and percussionists Rashid Bakr and Khuwana John Fuller playing incendiary free jazz drenched in the blues. It also contains the killer track "Illustration" with Bang reciting his street poetry in the great oral jazz traditions of Last Poets and Gil Scott Heron. This 2011 re-issue began with an even more fiery live session recorded in 1977 during A Day of Solidarity with Soweto.
Billy Bang's Sextet debuted in 1979 with the LP Sweet Space, recorded for Anima and featuring William Parker and another Loft associate, free jazz saxophonist Frank Lowe. Despite many gigs with a rotating line up of players like Butch Morris and Curtis Clark, it was another six years before the sextet recorded an album. The first of two releases for Soul Note, The Fire From Within featured this soaring piece of Strata East style modal jazz driven by the bass of William Parker and interplay of Marimba player Thurman Barker and trumpeter Ahmed Abdullah. Also search out Bang's four Soul Note LPs with String Trio of New York.
"This music is some of the most adventurous and challenging I have done to date. I have attempted to write in musical curves prior to this recording, but not for nearly as many instruments." So said Billy Bang of this recording for Celluloid from 1983, a pivotal year for the genre-defying label. Sandwiched between releases by Bill Laswell's Material and the electro of D.S.T, Outline No. 12 was one of the more experimental releases in the label's catalog. Conducted by Bang's old New York Loft cohort Lawrence "Butch" Morris, and featuring William Parker, David Murray, Frank Lowe, and Sunny Murray, the album consisted of three atonal, avant-garde pieces written by Bang and produced by Bill Laswell.
Billy Bang Sextet
"Abuella"
It was the way Billy Bang could move between atonal experimentation and deep spiritual jazz that marked him out as one of the great New York players and composers. Taken from a live recording for Soul Note from 1987, "Abuella" reflects Bang and his Sextet at their most uplifting. Soaring over 13 joyous minutes, this marimba-soaked modal masterpiece featured one of Bang's most transcendent violin performances, imbued with those charanga Latin tinges that had first influenced him back in the '60s.
Recorded on May 8th, 2009 at The Rubin Museum Of Art in New York, this 2014 release served as a fitting tribute to Billy Bang. "Even the most abstract sound he made was draped in the blues, pathos, and uplift. Billy Bang was filled with a fire, healing us as he healed himself," wrote William Parker in the liner notes of this LP, which is dedicated to Bang, who passed away two years after the concert. Beginning with a mournful drone, "Medicine Buddah" opens out into an extraordinary duet between Parker's arco bass and Bang's abrasive yet mournful violin. Dedicated to Leroy Jenkins, "Eternal Planet" is an incredible piece where, as the liner notes point out, it feels you're "listening to a friendship, to a deep emotional connection".