Designed by Miliboo, available as an armchair or sofa, this "sofa" 2.0 allows you to connect, recharge your smartphone and it acts as a voice assistant. It integrates all the audio equipment and to live an immersive Home Cinema experience. And it has the advantage of being made in France…
Our opinion on the Miliboo connected sofa
This sofa 2.0 has no name, perhaps quite simply because it is the only connected sofa, today marketed on the market worldwide. Presented by Miliboo Connected, a subsidiary of the French digital furniture brand Miliboo, this seat is more than a sofa. It is indeed equipped with a technology that allows it to interact with all the other connected products in the house. It is also a real platform for enjoying an immersive Home Cinema or gaming experience depending on the chosen leisure activity.
Why we love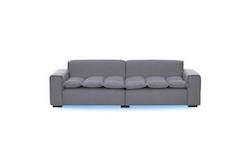 Comfortable: like a classic sofa, this sofa and its cushions are cozy with quality upholstery on a reinforced wooden structure.


A sofa that speaks since it replaces a classic vocal speaker


Its repairability with all the electronics embedded in a removable armrest in the event of a potential breakdown


Made in France with the structure being manufactured in Burgundy and the electronics designed in Annecy


A sensory experience at the salon
This sofa incorporates, in fact, audio equipment and a vibration system. Running on Android, it interacts with the connected ecosystem as the centerpiece of your smart home. Even better, it turns into a voice assistant and can speak under the aegis of Google Home or Alexa, Amazon's voice assistant.
Imagined by Guillaume Lachenal, founder of Miliboo and designed by his R&D teams, this new generation piece of furniture has clearly been designed to meet our new uses within our interiors. And since not everyone is a geek accustomed to the latest generation technologies, using this family-oriented sofa is easy, once paired with its mobile application. All that remains is to enjoy the comfort of its structure made in France. In summary, definitely put away your remote controls and other equipment such as vocal speakers that this 2.0 sofa will easily replace.
The reinforced wooden structure and soft upholstery of this 2.0 sofa hide the audio equipment needed to listen to music or watch a film. It thus incorporates a 600 watt subwoofer, 2 integrated 50 watt RMS stereo speakers, the Bluetooth 4.0 protocol and a sound amplifier. The sensory experience is enriched by an interactive vibration system. Everything is managed by the electronics embedded in the armrest. Connected to a television or its game console, it thus provides its user with real sensory immersion to experience the thrilling scenes of an action movie or take part in a video game. Light is also required since LED lighting is installed at the base of the sofa.
Ultra connected at home
Based on an Android system, this connected sofa can interact with all the connected equipment in the house if you wish. All you have to do is pair it via the dedicated application, offered by Miliboo, then configure it by connecting it to your lighting, your television, your favorite video-on-demand platform and also your electric shutters, for example. As a bonus, you can customize the settings of the vibration system according to your body type. Ultimately, all the elements are there to enjoy a carefree home movie session, the equipment triggering or closing without the need for any interaction on your part.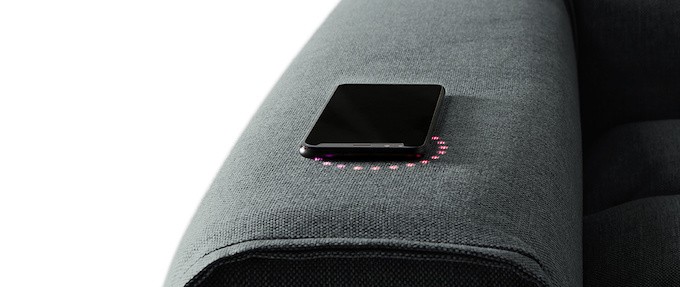 Your new butler
This sofa replaces your usual vocal speaker to assist you whenever you want. A true interactive platform, it integrates Google Assistant and Amazon Alexa voice assistants. He will thus be able to launch your favorite scenarios initially organized on one of these two voice assistance services. However, let your guests know when comfortably seated on it, they will hear your connected sofa speak. Fans of Siri, on the other hand, will not be able to take advantage of their favorite assistant since Apple keeps its voice assistance technology to itself.
The little more functional? A wireless induction charger allows you to recharge your smartphone, once it is placed on the armrest. Enough to enjoy your leisure break quietly without getting up to plug in yet another cable to recharge your mobile.