Netatmo is enriching its ecosystem of connected devices for the home with a Smart Video Doorbell. This connected device allows the user to monitor his gate or his entrance door remotely, from his smartphone and possibly to interact with a visitor. As usual at Netatmo, this connected doorbell is easy to install and use.
Our opinion on the Netatmo Smart Video Doorbell
The French manufacturer Netatmo, which is now part of the Legrand Group, specializes in connected devices for the home ( outdoor , indoor camera, air sensor, smoke detector, etc.). We always closely follow the novelties of this manufacturer, which takes the time to develop its range by enriching it with useful devices., successful, which work perfectly in an ecosystem. The Smart Video Doorbell (don't look for its name or its reference, Netatmo no longer gives it to its products) is faithful to the brand's philosophy. Easy to install, it works with the Security application, available for iOS and Android, already used by the brand's devices dedicated to security (cameras, siren, smoke detector, etc.). It allows you to customize many parameters, such as alerts, video recording, monitoring angle or even oral interaction with a visitor. This makes it a complete video doorbell, which additionally works without a subscription paying particular attention to data security.
Why we love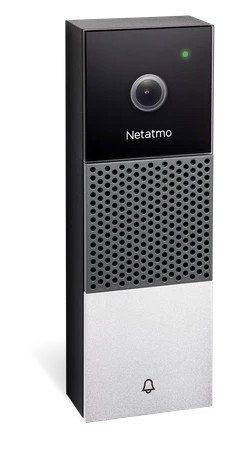 For its discretion and its neat finishes


For the possibilities of personalization via the application


For the ease of installation
Install instead of a doorbell to monitor and interact
Weatherproof, the Netatmo Smart Video Doorbell is designed to stay outdoors. It is simply installed in place of a doorbell, for example at the gate of a house or the front door. It can easily find its place there, especially since its design is sober and discreet, while benefiting from impeccable finishes. The user keeps the existing chime and replaces the doorbell button with the Smart Video Doorbell.
It naturally serves as a doorbell, to which is added a video surveillance function. If someone rings the doorbell, the user can view on their app who shows up outside their door – whether they are present at the other end of the house or simply absent.
Several modes are available. Indeed, you can also choose to receive a notification if a person shows up in front of the house, even if they do not press the doorbell. In this regard, the Smart Video Doorbell uses a technology that Netatmo already masters to distinguish objects from people. It is thus able to send notifications only wisely, avoiding disturbing the user by flooding it with alerts, each time it detects a movement or a car passing by, for example.
The Netatmo Smart Video Doorbell films in wide-angle (140°), in high definition (Full HD 1080p). It's equipped to deliver clear images in any light condition, including backlit or at night, thanks to infrared night vision. The Security application proposes to define restricted surveillance zones, to perfectly meet the needs of each user, according to the configuration of his entrance.
Finally, this connected doorbell includes speakers. If necessary, via the application, it is therefore possible to interact with a person who rings or who comes to the house. Concrete example: you can warn a courier that you are absent and ask him to drop off a package at the neighbour's.
No subscription
Netatmo remains faithful to its principles. Also this doorbell works without subscription. The video sequences are recorded locally, on an 8 GB SD card provided. It is possible to increase the memory by replacing it with a larger capacity card, up to 64 GB.
Of course, the application allows you to personalize the operation of the connected doorbell: reception of alerts or not (only if the doorbell rings or also if a person is detected in front of the door), the same goes for the recording of video sequences, etc.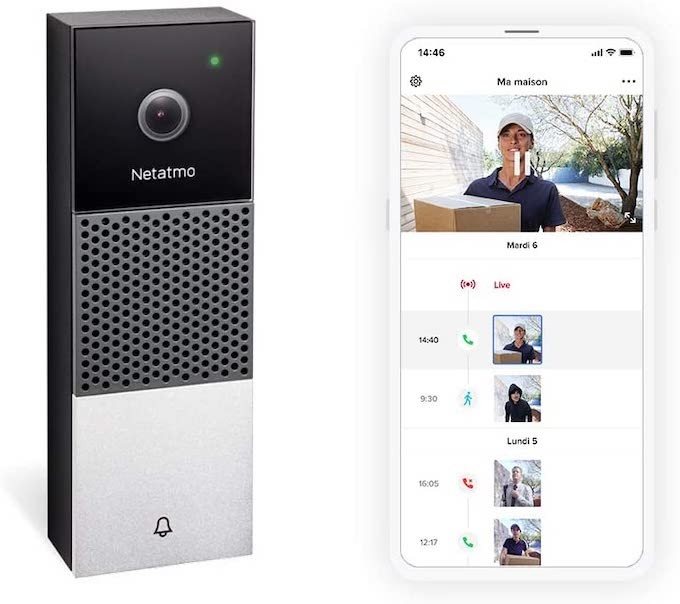 A simple and secure installation
The French specialist in connected objects makes it a point of honor to develop devices that are easy to install and use. The Smart Video Doorbell simply installs in place of a doorbell. Several supports are delivered, including an inclined one, to adapt to the shape of the walls. A cover is also provided, to be placed on the back of the support, to hide any imperfections. Finally, a little smarter, Netatmo has provided a cardboard template with the location of the screws used to fix the support; this allows holes to be drilled correctly, the first time, without the need to take measurements. This is reassuring if you are not a handyman.
The doorbell mounting system is also secure to prevent theft. The doorbell snaps into its wall-mounted bracket. It is screwed onto this support using a proprietary system, Netatmo providing the appropriate small screwdriver. In addition, an evolution is already planned via an update. The doorbell has an accelerometer and will therefore be able to alert the user if you try to move it.
Thanks to the Security application, it is possible to control the Smart Video Doorbell as well as the other objects of the Netatmo security range and make them work together. The doorbell is also compatible with Apple Homekit, which allows it to interact with other compatible connected devices (eg outdoor lights) to create scenarios. Thanks to this compatibility, it can still be controlled by voice using Apple's Siri voice assistant.