Thanks to indoor vegetable gardens, we can now consume fresh and healthy aromatic herbs all year round. A home production to pick plants and even mini-vegetables without being a garden ace, or even having a garden. But how do they work? Who are they for? How to choose the right one for you? Here are our answers and our selection…
Launched by start-ups, the indoor vegetable garden concept has found its audience, particularly in direct sales. But these "apartment gardens" are also exhibited in stores and major brands are embarking on the adventure. For example, the Seb group has its Click & Grow Smart Garden models thanks to the acquisition of Emsa, Bosch is also launching its gardens next year thanks to a partnership with the Finnish brand Plantui. And even distributors market their own indoor vegetable gardens, such as Boulanger with Essentiel B…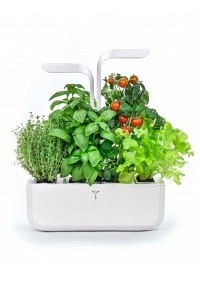 Veritable Classic selection 149 euros
Large selection of varieties
Connected version
Autonomous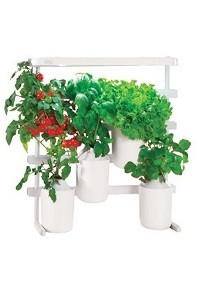 Ready to Push Modulo 149.95 euros
Adjustable size
Wide choice of plants
smart lighting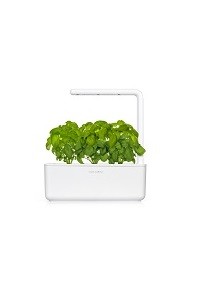 Emsa Click and Grow 100 to 200 euros
3 or 9 plants
Automatic cycle
LED lighting
How does an indoor vegetable garden work?
The idea is to grow aromatic plants and edible plants indoors, all year round. To grow in good conditions, plants need adequate water and light. These indoor vegetable gardens are therefore equipped with LED ramps which automatically simulate day and night, so that the plants grow as if in full light. Thus they enjoy the necessary light, whether the mini vegetable garden is close to a window or not.
As for watering, it is one of the most delicate actions when growing plants: too much or too little watering can be fatal, whether the plants are edible or not, by the way. These small vegetable gardens also take care of this since the watering is automatic: all you have to do is fill a large reservoir from which the plants draw the water they need directly;no more no less. The autonomy obviously depends on the capacity of the tank but also on the needs of each variety of plant: a filled tank can provide up to 4 weeks of water supply.
Finally, the seeds are contained in cartridges or capsules containing the soil and the nutrients that the plants need.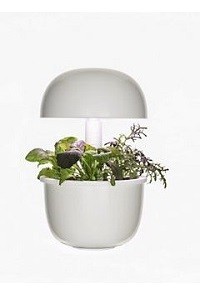 Plantui Smart Garden selection 139 euros
3 plants
Automatic lighting
1 liter tank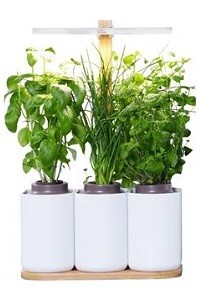 Ready to Push Lilo €99
Compact
3 plants
Wide choice of plants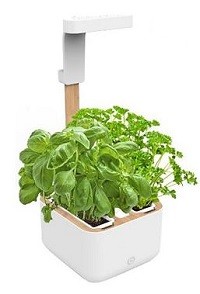 EssentielB Eve 69.90
Its low price
Its compactness
2 plants 
What can be grown in an indoor vegetable garden?
While indoor vegetable gardens all use the same principle of automating the supply of water and light, the way in which the seeds are presented differs from one brand to another. They are delivered in cartridges, capsules or "ingots" containing enriched soil or nutrients as well as the seeds. The roots, on the other hand, soak directly in the water reservoir, either via a system leaving the roots bare, or thanks to float technology.
These indoor vegetable gardens offer the possibility of growing aromatic herbs, edible flowers, mini fruits (strawberries for example) as well as mini vegetables (like small peppers) and young shoots. The choice is more or less extensive depending on the manufacturers: about forty varieties for those who offer the richest catalogs.
It is possible to grow several plants simultaneously: between two and nine depending on the device. Some manufacturers even market evolving vegetable gardens, which can be enriched with additional pots. Indoor vegetable gardens are sold with their LED ramp, their planter or their pots (the presentation is different depending on the manufacturer) and with the capsules or cartridges containing the seeds to start with. In general, the plants provided are fairly standard: basil, parsley, chives… But later, you can turn to more original varieties such as burnet, purple basil, blueberry, agastache, chamomile…
Depending on the plants that are grown in the indoor garden, the delay before being able to harvest is variable – namely that to speed up germination, some gardens are delivered with small miniaturized greenhouses. Allow about a month before you can harvest and use your herbs in the kitchen.
Finally, from the first harvests, we can hope to collect aromatic herbs for several months before the plant gets tired: about 4 to 6 months. Then, you have to change plants, knowing that the cartridges are biodegradable or compostable. You can simply replant them in the garden if you have one.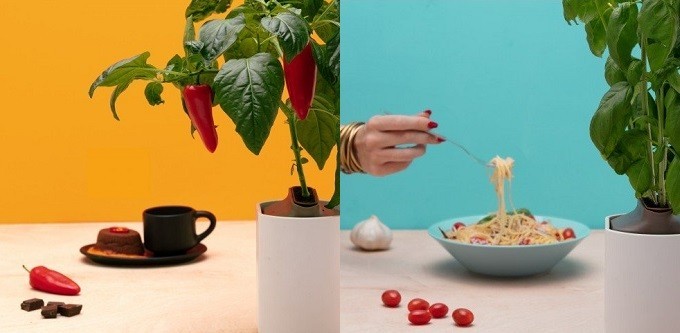 Who are indoor vegetable gardens for?
In terms of benefits of use, growth is guaranteed, regardless of the location of the vegetable garden and regardless of the user, even if he has no gardening experience or no green thumb. Moreover, most manufacturers guarantee the result and exchange your capsules or cartridges if the plants do not germinate.
The indoor vegetable garden mainly allows you to control the plants you eat. Growing them yourself is the assurance of knowing how they grew, without pesticides, without chemicals and without GMOs: all the manufacturers guarantee it and in some, they are even organic. It's a way to consume fresh, healthy herbs without wasting – which often happens when buying them cut.
These devices are really intended for everyone: lovers of gardening, green plants, cooking, whether they have a garden or not. City dwellers are obviously a prime target. They will be happy to grow indoors if they are not lucky enough to have a garden or a balcony. Cooking enthusiasts will be delighted to have fresh herbs at their disposal, summer and winter alike. And so, even if you have a garden and even if you grow herbs there, you can fall for an indoor vegetable garden that ensures production all year round.
Finally, it's also very fun for children: it's a bit like the modern version of beans that you sprout on cotton when you're a child.
Particular care given to aesthetics
Manufacturers pay great attention to the aesthetics of their indoor vegetable gardens. These are indeed intended to take pride of place on the kitchen worktop, without taking up too much space and being as decorative as they are practical. Indoor vegetable gardens often come in the form of mini planters, sometimes colored, topped with their rows of LEDs. Some brands have chosen separate pots, which allows certain models to be upgraded by adding pots. Finally, there are some that have a rounded shape that can possibly be hung, or even models that can be hung on the wall.
It is logical to install these small vegetable gardens in a kitchen, to have its herbs at hand, but because of their neat design, indoor vegetable gardens can perfectly find their place in another room of the house, for example in the living room.
Also note that there are models that are presented vertically. A little more imposing, they are intended to be placed on the ground (like a large plant) in a living room, a kitchen or even on a balcony. Their advantage? The possibility of adding modules by stacking them, without seeing the floor space increase. 

How to choose your indoor vegetable garden?
The price of indoor vegetable gardens varies according to the number of plants and the options available: from 70 € to more than 250 € (and even beyond in the case of very large models).
– The first criterion to take into account is the number of plants accommodated by the vegetable garden , knowing that the smallest contain two and the largest receive up to nine when the devices are in the form of planters. The large vertical models can accommodate many more plants, up to nearly twenty. If you cook regularly and hope to add fresh aromatics to your dishes, growing two plants may not be enough. In this case, choosing a model that accommodates at least 4 or 6 plants is probably more judicious. Especially if you want to harvest both herbs and mini fruits or vegetables. If you have any doubts, you can opt for an evolutionary model, to which pots or modules can be added.
– Also pay some attention to plant refills . First to the available choice, which must correspond to your desires. Because while all manufacturers have classic herbs in their collection (basil, parsley, chives, etc.), some offer more or less original plants. You should also know that the plants originally delivered with the vegetable garden vary: in some, all the plants supplied are identical, which can be disappointing if you hope to use them for cooking from the first harvests: in this case, order capsules or additional cartridges to vary the pleasures (to be provided in the budget).
– Also take a look at the price of these refills : from €6 per refill with some manufacturers, €6 or €10 for three with others (knowing that "rare" plants often cost more).
– Also look at how the tank looks . On some models it is a single tank, others sport one tank per plant. If you hope to take care of it as little as possible, a single tank may be more suited to your needs. But above all, not all models have an alert system in the event of an empty tank: essential if you are a bit airheaded and not very careful with your plants. On some models, it is only a float placed on the side of the planter, to be monitored. On others, the alert cannot be missed since the LED ramps flash.
– Almost all indoor vegetable gardens have a ramp of LEDs(or more) to simulate day and night cycles. If this is not the case, the device should be placed in a place where it receives light. These ramps are height adjustable to accommodate plant growth. Check if this operation is simple and suits you: on some vegetable gardens, you have to add modules to lengthen the ramp when the plants grow (not to be lost at the bottom of the drawers), on others, it simply slides. Some models still have a variable light function, which automatically adapts to the brightness of the room. Finally, if entry-level vegetable gardens are sometimes equipped with basic LEDs, the more elaborate models are equipped with LEDs dedicated to horticulture, promoting plant growth (the light spectrum is specifically adapted). 
– Among the options, there are vegetable gardens with a holiday mode or equivalent . It consists of regulating the water and light supply to extend the autonomy of the water tank and slow down the growth cycle of the plants during your absence.
– Finally, some indoor vegetable gardens are connected to your smartphone . This option promises to make maintenance easier. The application provides advice: when to harvest aromatic herbs, how to cut them to promote optimal regrowth, how to use them in the kitchen… It also provides alerts when the tank is empty and allows you to adjust the lighting cycles to ensure a more or less rapid growth.
Some manufacturers have chosen not to connect their vegetable garden, but still offer an application, without real alerts but with advice. Finally, if you are a fan of made in France, know that some very active French start-ups in this field design and manufacture their indoor vegetable gardens in France.