Specialist in connected objects for the home, in particular doorbells and video door entry systems, Ring is expanding its catalog. Its Door View Cam is much more than a connected doorbell. Rich in many features, it is also easy to install, since it runs on battery power, wirelessly.
Our opinion on the Ring Door View Cam
The Ring company is owned by Amazon. Its name is evocative since it specializes in doorbells and connected video door entry systems; it also markets surveillance cameras. The Door View Cam expands its catalog of connected video doorbells. This device is very complete. Thanks to its integrated camera, it allows you to monitor your doorstep remotely, but also to interact with visitors who come. Its easy installation is a real asset. Because the Door View Cam has a battery and therefore works wirelessly. To use it, all you need is a Wi-Fi connection. We appreciate that this battery is removable, because it extends the life of the video doorbell by changing this element when it shows signs of weakness.
Why we love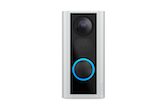 Its easy, wireless installation


The removable battery, a very good idea


Full connected doorbell and camera functions, plus a preserved peephole Introductory price: 199 euros
Simple, wireless installation
The Door View Cam is very easy to install on a door since it works without a power cable, so without a cord. Just connect it to the home Wi-Fi network to enjoy all its features. It is indeed powered by a removable rechargeable battery. When the latter is empty, simply dislodge it to recharge it. How do you know when the battery is exhausted? This is the whole point of connected devices: they can send an alert to the user.
Ring had a very good idea by equipping its Door View Cam with a removable battery. Firstly because it can be changed if it shows signs of fatigue, which makes this connected object a little more durable. In addition, you can always get a second battery available from Ring accessories (it costs around 25 euros) to power the Door View Cam while the original battery is charging.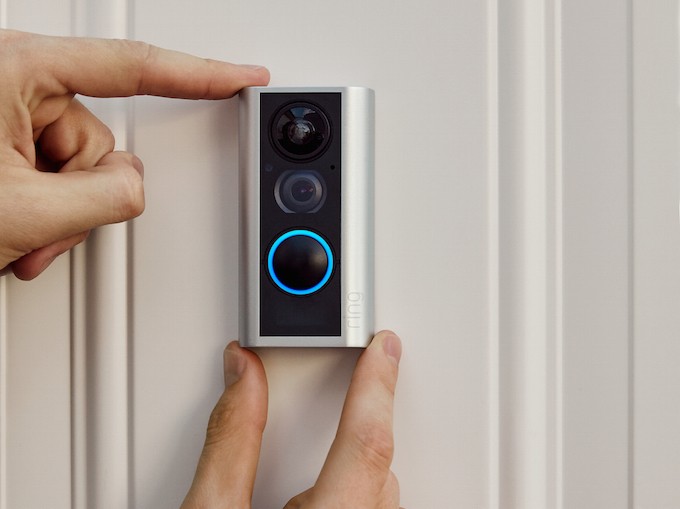 A peephole, but also a camera
Ring has provided its Door View Cam doorbell with a lens to preserve the traditional peephole present on the front door. If someone rings the doorbell and the user is present, he does not need to pull out his smartphone to find out who is there. It's all "stupid", but well seen. Ring has turned this doorbell into a connected device to monitor the house remotely. She also has a camera that films in high definition (1080p). As soon as someone rings the doorbell, the user receives a notification on his smartphone via the application and can view what is happening in front of his home, wherever he is.
Moreover, even if someone shows up without ringing, the Ring Door View Cam warns its user. Because it is also equipped with motion detectors and a contact detection function. This means that if someone knocks on the door without ringing the doorbell, it detects it. Ditto if someone stands in front of the door without ringing or knocking.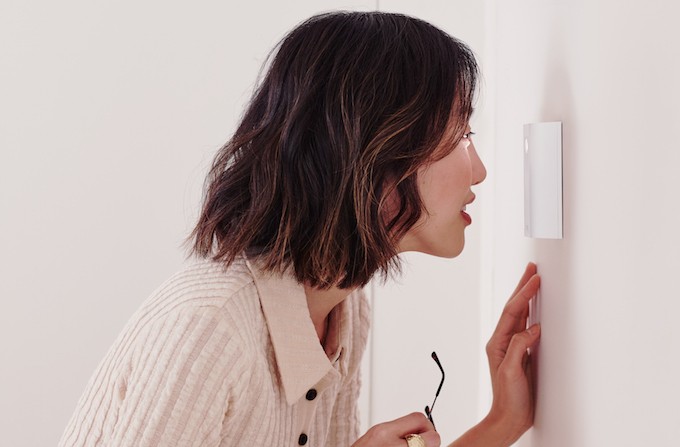 The ability to interact remotely with visitors
The Ring Door View Cam has microphones and "two-way audio" functionality. This means that from the smartphone, remotely, you can exchange with your visitors. For example, if the postman rings or knocks on the door, the user can talk to him and ask him to drop off the parcel with a neighbor, even if he is on the other side of the world.
Thanks to these comprehensive features, the Ring Door View Cam connected doorbell is perfectly designed to integrate into an ecosystem of connected devices. For example, we could consider using it in addition to a connected lock. This would make it possible, for example, to open the door remotely, for example to a guest who is early when one is stuck in traffic jams. Or why not authorize access to the postman so that he can drop off a package… Because if the Ring Door View Cam already offers complete functions on its own, it is indeed the ambition of the Internet of Things: to make all these devices together to bring more convenience to home.
It should be noted that via the application, as some cameras offer, it is possible to define "privacy zones", to conceal an area in the camera's field; for example the sitting area in the garden or a bird's eye view of the neighbour's door.
Finally, with regard to the functions offered by Ring, the Door View Cam is compatible with the voice assistant Alexa. This is not surprising since more and more connected devices are compatible with voice assistants. Ring belonging to Amazon, it was only natural that it favors its own assistant rather than that of its competitors (Google Assistant or Apple's Siri). On the program: the possibility of asking the assistant vocally to see what is happening in front of the door, or to exchange with a visitor through a smart speaker equipped with Alexa.